Get Back Coziness Fast with Our Quality Furnace Repair in Wheaton, IL
There's nothing worse than coming home during winter to find your furnace is broken. Rather than sit around huddled in extra blankets while you wait for furnace repair in Wheaton, IL, avoid the trouble entirely by calling the furnace specialists at TopTec.
All of our qualified, insured and licensed technicians are devoted to providing you the very best HVAC service available. We work as soon as possible to identify and resolve whatever's malfunctioning. In fact, it's why we're legendary throughout Wheaton.
What are you hunting for? Whether its routine maintenance or emergency repairs, we'll work our hardest to help however we can. We won't give up until it's completed properly the first time. That way the next time an ice storm is on its way, you'll keep a cool head and a comfortable home.
You may be tempted to handle all furnace maintenance without professional help. But your furnace is a complex piece of technology, and many problems are severe enough to warrant the expertise of a well-trained professional. We're proud of our reputation for performing repairs and all other services with safety in mind. Don't worry, because there are still lots of things you can do to help supervise the health of your heater.
Your senses are some of the most helpful tools you have. You may not realize it, but over time you'll recognize what your furnace looks, sounds and even smells like when its working normally. If something strikes you as strange, that could be the first sign of trouble.
To investigate where it's coming from, check electrical systems like the thermostat and circuit breaker. There may be damaged wiring or another electrical malfunction preventing your system from coming on consistently.
Keeping crucial components free of dirt is also a fantastic move. This will stop blockages from building up in another part of the HVAC system. Cleaning also tends to help the system run more smoothly and efficiently.
Of course, if something appears wrong and you are unsure of how to proceed, don't hesitate to call a professional! We're more than happy to take over in a way that keeps you safe and in good financial standing.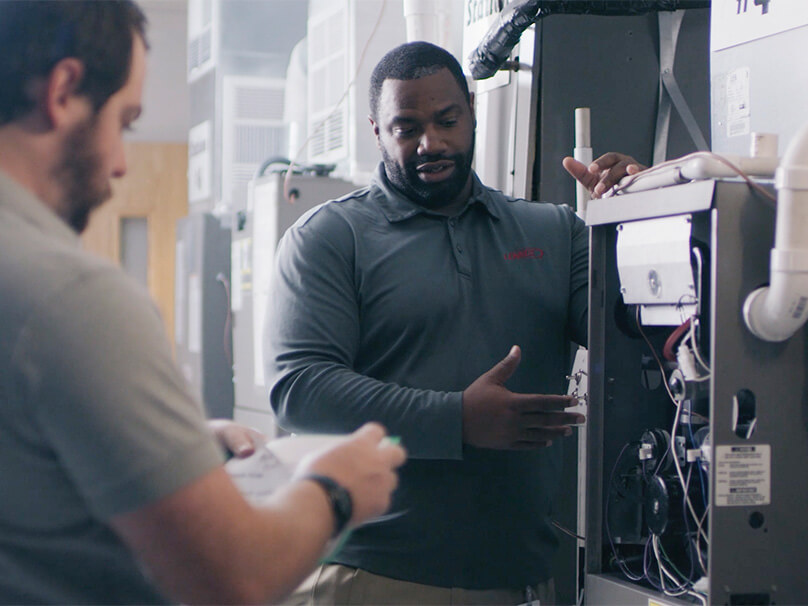 Furnace Service in Wheaton, IL and Surrounding Areas
Ever been on the hunt for furnace service in Wheaton? If you have, you recognize how irritating it can be when the company fails to perform to your standards. When you count on the technicians at TopTec, you can relax knowing you won't have to look any further.
There are lots of benefits to hiring a technician. On every job, we're thinking about how to best conserve the long-term health of your furnace, as well as how to decrease the likelihood of a costly failure. Enjoy the peace of mind your HVAC equipment is in the hands of someone with the tools, talent and commitment to complete the job.
Ask our staff about trying out one of our annual furnace maintenance plans. These long-term plans consist of periodic service calls. We'll have ample opportunities to locate breakages and remove them before they get worse. Not only may this positively impact your furnace's energy efficiency, but it might even add a couple more years to your system's total life span. Feel free to chat with one of our technicians about these plans the next time we're around.
With each visit we'll extensively review every important system for signs of damage and maintain them as needed. This will protect your furnace during changing seasons and extreme weather.
Of course, we're only technicians. The older your furnace becomes, the less likely it will remain in good shape. You'll find most systems last anywhere from 12 to 17 years. It's generally this time it starts to run poorly. You'll notice energy bills going up with no change in temperature.
Sooner or later, maintenance will cost more than what a replacement does. It's a good thing we offer outstanding furnace installation in Wheaton. Thanks to modern technology, new models are quieter and more energy efficient than ever.
Don't be intimidated by the range of potential choices. We're happy to help you figure out which brand, model or extra features benefit your home or business. We guarantee you'll end up with a product that serves you well for years to come.
Give us a call at 847-362-0262 or contact us online to get started with scheduling an appointment.